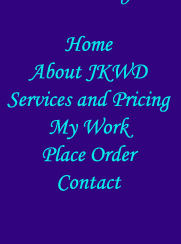 Officially founded in September of 2002, JK Website Design has been creating a web presence for numerous businesses ever since. With much experience, the webmaster, Jeremy Katz, has learned the finer points of web design for businesses, creating simple and fast-loading, yet effective web pages. Working with each client individually, websites are built to fit specific needs, including secure ordering forms for online stores which wish to accept credit cards safely.
Why should your business use JK Website Design, when web design software can be purchased for a fraction of the cost? The answer is simple. Most website software adds snipets of code that are erroneous and make pages larger than they should be. Not only do those snipets make a webpage larger, but they can also confuse a web browser, making it unable to display your page exactly as you had hoped. Writing out the code as it should be, websites created by JK Website Design are small, quick to load, and effective.
Also, please note that four of our most recent sites have won the prestigious 2003-2004 Golden Web Awards! They are noted on the "My Work" page.
Still not convinced? Take a look at the many sites that JK Website Design has created, as well as our many services and competitive pricing.

©2004 JKWD.com, All Rights Reserved